Back to School with Snughooks | Keeping Students Safe
26 February 2020
With students across Australia returning for the school year recently, it is a great time to revisit the importance for school administrators to make the school environment as safe as possible for students.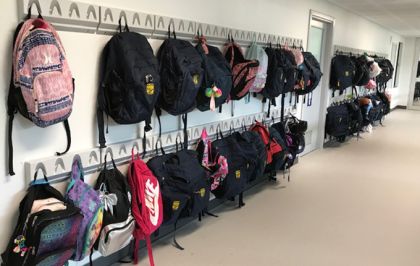 Students require an accessible, simple solution to store their belongings when coming into a classroom. The solution needs to aid in reducing clutter, mitigating tripping hazards and ensure student's belongings and personal items are kept safe from damage.

Snughooks provide a convenient and safe alternative to conventional classroom bag racks or wall hooks. Bag racks do not only take up valuable floor space inside the classroom and in hallways but often become unorganised with student's bags getting lost among other bags. With other student's bags packed in front of and on top of theirs, potential damage can be caused by bags falling or being squashed. Bag racks can also become a climbing hazard for younger children as they are accessible from the ground. Unlike regular metal bag hooks, Snughooks have been engineered to have a smooth, recessed hook design featuring no sharp edges.
When compared to traditional locker solutions for student storage, Snughooks are a much more affordable solution for schools to implement. Much like bag racks, locker solutions also take up valuable floor space in classrooms and hallways, limiting the usable space for staff and students.
Snughooks are simple to install, coming with all the necessary drill bits and screws to attach the hook to your wall of choice, making the transition from sharp steel hooks extremely simple. Available for purchase in 4-hook sections, Snughooks can be installed on an as-needed basis, that can be easily added to in the future. Snughooks have been designed and tested to support up to 120kg per section, giving them the strength to safely store not only student's bags, but are capable of storing many other items including coats, jackets, umbrellas and a whole range of other items. Snughooks are also UV resistant and flame retardant, meaning they can be confidently installed both indoors or outdoors and still maintain their integrity.
Snughooks are a simple and safe solution for storing items in different school environments from classrooms, hallways and changing rooms. Snughooks eliminate the need for sharp metal hooks or bag racks, saving space, improving the image and reducing many unnecessary hazards commonly seen in classrooms around Australia. Schools that have implemented Snughooks typically allocate two recessed hooks per student, giving each student plenty space to spread their belongings without feeling cramped up next to other students.
Snughooks are now being installed in schools all over Australia and The United States of America. If you are interested in finding out more about Snughooks, Click here to request a free sample unit or contact our team.